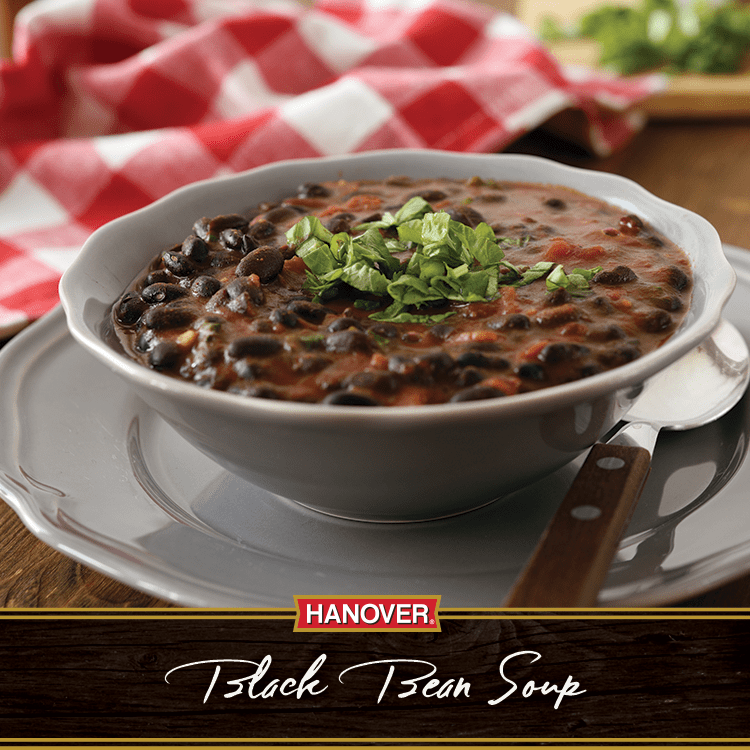 Do you love Hanover black beans and soup? Why not try combining them to enjoy the rich and savory flavors of our Hanover Black Bean Soup Curry recipe? This hearty and wholesome meal is easy to prepare and perfect for vegetarians as it is packed with protein. Try the Black Bean Soup Curry recipe today and savor a flavorful vegan delight.



INGREDIENTS
2-15.5 oz Hanover Foods Black Beans undrained
⅓ cup Onions chopped
1 Clove of Garlic Ground/Cut Up
½ tbsp Olive Oil
1 cup Water
1 Chicken Bouillon Cube
½ cup Cooked Smoked Ham diced
Sherry optional
INSTRUCTIONS
Sauté the onion and garlic in oil in a 3-quart heavy saucepan.

Lightly mash contents of 1 can of black beans and add to sautéed ingredients.

Add the remaining can of black beans, water, bouillon and ham.

Bring to a boil, reduce heat and simmer for 30 minutes.

 If desired, add a dash of sherry before serving.
Hanover Black Beans