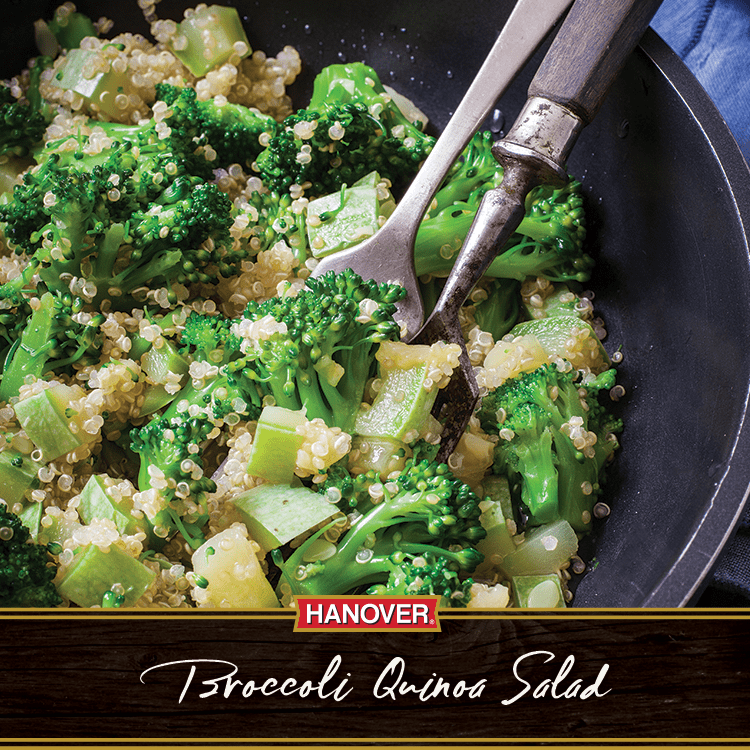 DETAILS
Broccoli Quinoa Salad
Looking for a meal that is both healthy and flavorful? Try our Broccoli Quinoa Salad recipe for a tasty and nutritious dish. Whether you need a quick lunch or a delicious side for dinner, this salad is packed with wholesome ingredients and vibrant flavors that are sure to satisfy. Give it a try and discover a new favorite meal option that is both tasty and good for you!

Course
Appetizer, Salad, Side Dish


EQUIPMENT
Oven

Baking Sheet

Small Bowl or Cup

Food Processor/ Blender

Large Bowl
INSTRUCTIONS
Preheat the oven to 425 F°. Line a baking sheet with foil.

Cook quinoa according to package directions, then set aside.

Thaw than toss

broccoli florets

in 1 Tbsp. of olive oil, and place on the baking sheet. Season with salt and pepper. Roast for 20-30 minutes, or until the broccoli is tender and golden.

 Combine Dijon, honey/maple syrup, lemon, garlic, and remaining ¼ cup olive oil in a small bowl or cup and stir to combine. The dressing will be thick. Season with salt and pepper to taste. Set aside.

When the broccoli is roasted, carefully pour it into a food processor. Pulse until small pieces of broccoli remain.

In a large bowl, combine quinoa and pulsed broccoli. Pour dressing on top, and mix to combine. Add walnuts or almonds if desired. Serve warm, at room temperature, or cold!