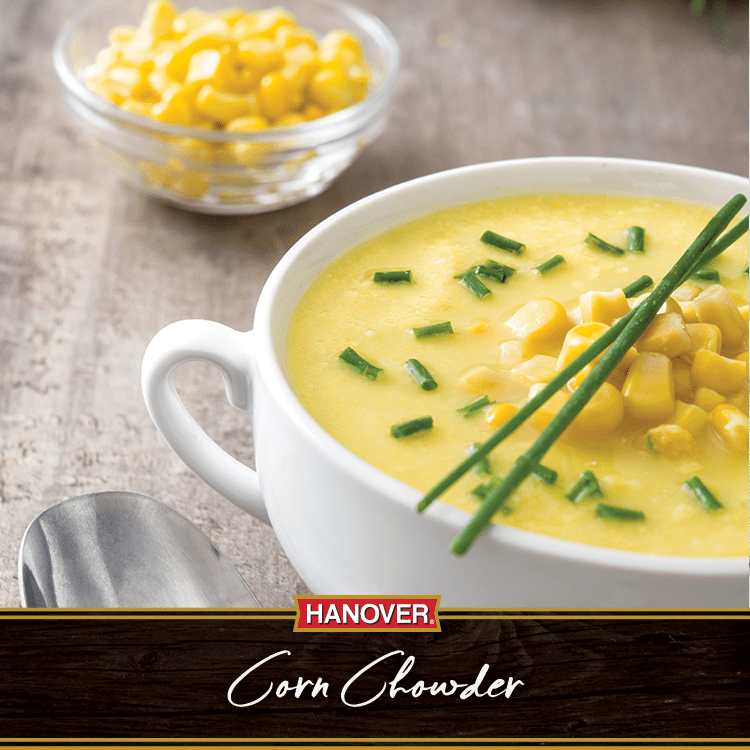 If you're a soup lover, have you ever tried making homemade soup? We all know that homemade food is the best, so why not try making your own creamy corn chowder? Our easy-to-follow recipe guarantees a warm and flavorful bowl of soup that's perfect for cozy dinners. So, indulge in the comfort of homemade soup and treat your taste buds to something delicious.



INGREDIENTS
2-10.5 oz Hanover Foods Super Sweet Corn
2 tbsp Margarine
1 cup Onions chopped
½ cup Celery chopped
1½ cups Potatoes diced
⅛ tsp Black Pepper
Fresh Parsley
¼ cup Flour
2 cups Skim Milk
INSTRUCTIONS
Combine margarine, onions and celery in a 3-quart heavy saucepan; sauté until tender.

Add potatoes, chicken broth and seasonings. Simmer for 15 minutes or until potatoes are tender.

Add sweet corn and cook an additional 3 minutes. Combine flour with milk and stir until smooth.

Add mixture to vegetables and heat until chowder thickens, stirring frequently.

Garnish with fresh parsley.