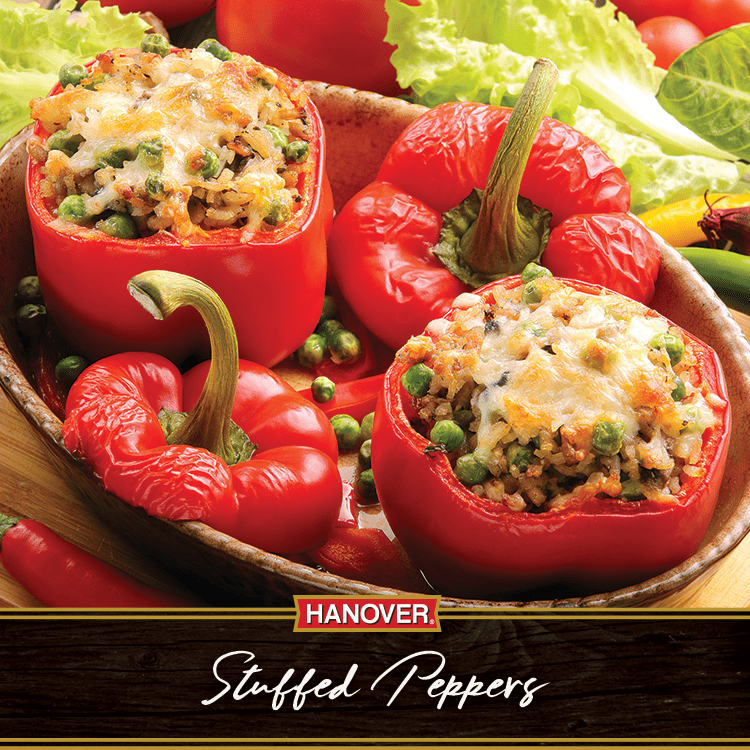 DETAILS
Riced Cauliflower Stuffed Peppers
Are you a fan of stuffed peppers but looking for a healthier and low-carb twist on the classic recipe? Look no further! Try out this amazing stuffed peppers recipe that features Hanover Foods Riced Cauliflower, Super Sweet Corn, Tomato Soup, and black beans. This mouthwatering dish is both healthy and delicious and is definitely worth a try. So why not give it a go and enjoy a new take on an old favorite?



INSTRUCTIONS
Preheat oven to 375 F°, arrange pepper halves in 3-quart baking dish and set aside.

Cook turkey /ground beef, Riced Cauliflower, Super Sweet Corn,onion, garlic and salt in a large nonstick skillet over medium-high heat 10 minutes, stirring occasionally, until turkey is no longer pink and vegetables are tender.

Stir in 1 cup mozzarella, 1 cup Tomato Soup, Parmesan cheese and Italian seasoning.

Evenly fill peppers with turkey mixture. Top each pepper with remaining sauce.

Cover and bake 25 minutes or until hot.

Remove cover, sprinkle with remaining mozzarella and bake 5 minutes or until cheese is melted.

Add Black Beans for extra protein!