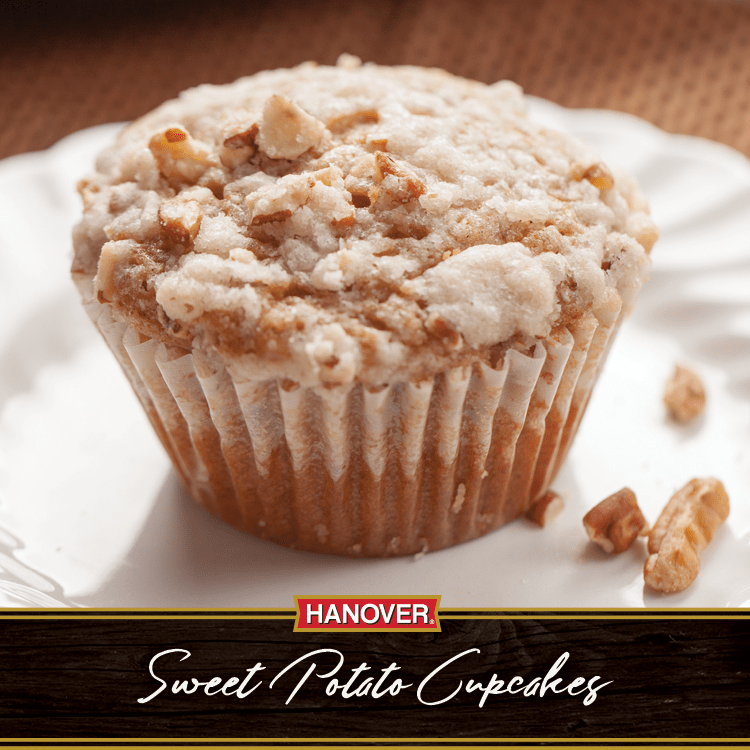 DETAILS
Sweet Potato Cupcakes
Learn how to make delicious Sweet Potato Cupcakes that mix the moist, tender cake with the rich taste of sweet potatoes. These cupcakes are the ideal treat for any event and give a traditional dessert a distinctive spin. Try this simple recipe and enjoy the comfort of home-cooked food.

Course
Breakfast, Dessert, Snack


EQUIPMENT
12 Count Muffin/Cupcake Tin with Paper Liners

Small Mixing Bowl

Oven
INSTRUCTIONS
Preheat oven to 350 F°. Line 12 count muffin/cupcake tin with paper liners, set aside.

In a small mixing bowl, whisk together flour, baking powder, baking soda, salt, set aside.

In the bowl of an electric mixer, whip together butter and brown sugar for 3-4 minutes until slightly fluffy. Stir in eggs and vanilla.

Slowly add in dry ingredients mixture and buttermilk. Still until well combined. Mix in Hanover Mashed Sweet Potatoes. Fill cupcake cups ⅔ full (about ¼ cup each).

In small bowl crumble together topping ingredients and sprinkle over cupcakes.

Bake 18-20 minutes until toothpick inserted in center comes out clean. Cool 5 minutes in baking tin before removing to wire rack to cool for an additional 5 minutes.