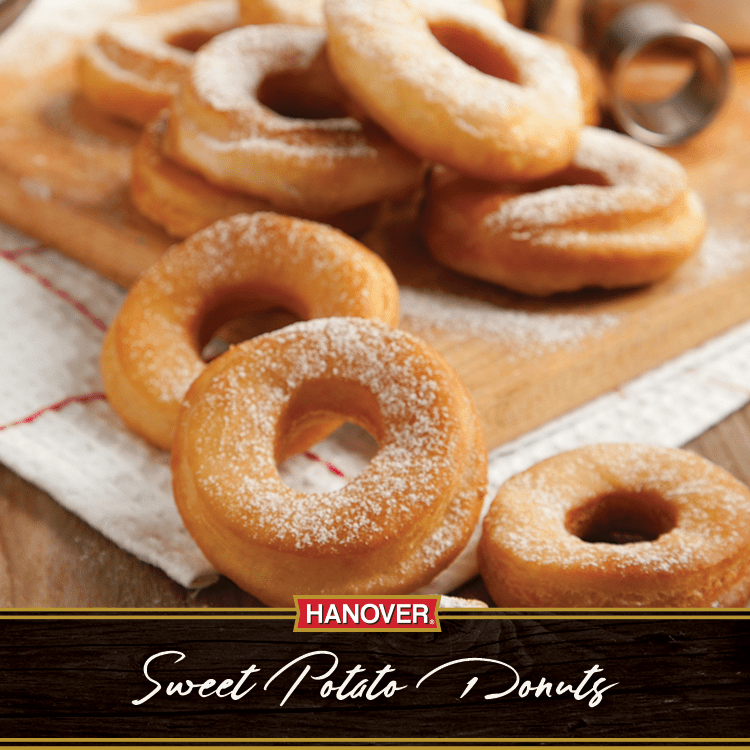 DETAILS
Sweet Potato Donuts
Indulge in the delectable world of sweet potato donuts with our homemade recipe. These mouthwatering treats are perfect for satisfying your sweet cravings. Discover how to create these irresistible donuts from scratch and add a touch of warmth to your day.



Estimated Time
12 hours 30 minutes
EQUIPMENT
Large Bowl

Small Saucepan

Oven

Deep Skillet
INSTRUCTIONS
Coat a large bowl with vegetable oil and set aside.

Gently warm 1/2 cup milk and olive oil in a small saucepan over medium heat. Combine the water and yeast in a large bowl, stir to dissolve, and sprinkle with 1/4 teaspoon sugar. Let stand for 5 minutes. Add the warm milk and oil to the yeast mixture and stir to combine. Add the remaining sugar, Mashed Sweet Potatoes, eggs, yolks, salt, and vanilla and stir to combine. Add the flour gradually.

Transfer the dough to a lightly floured surface and knead until smooth. Place it in the prepared bowl and turn to coat. Cover with plastic wrap and set aside in a warm, draft-free place until doubled in volume – about 2 hours. Punch dough down, re-cover the bowl with plastic wrap, and refrigerate for 2 to 12 hours.

Turn the dough out onto a generously floured work surface. Lightly flour the dough and roll it out to about 3/4 inch thick. Cut doughnuts out of the dough using a 3-inch doughnut cutter and transfer them and their holes to a baking sheet. Gather dough scraps, reroll, and repeat cutting doughnuts and holes until all dough is used. Chill doughnuts and holes for 30 minutes.

Heat about 4 inches of vegetable oil in a large deep skillet fitted with a thermometer over medium-high heat until oil reaches 350 F°. Fry the doughnuts three at a time until golden, about 2 minutes per side. Remove doughnuts and holes with a slotted spoon and drain on paper towels. Repeat with remaining doughnuts and holes.

For glaze, combine 1 cup maple syrup and 1 teaspoon lemon juice in a small saucepan over medium-low heat. Cook until reduced to 3/4 cup, 15 to 20 minutes.

While doughnuts and holes are still hot, dip them in the glaze and transfer to a wire rack until glaze is set and doughnuts are cool. Serve immediately or keep in an airtight container for up to 2 days.