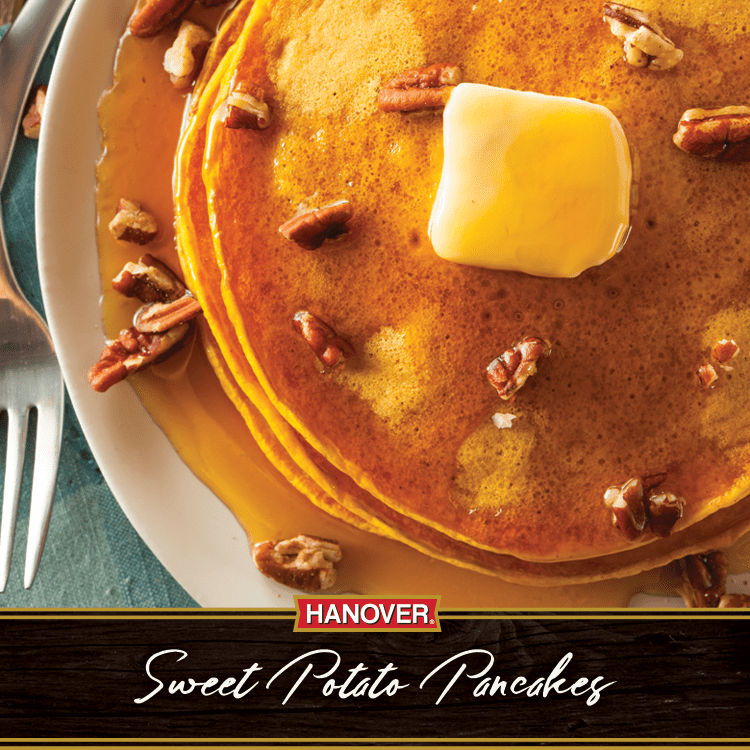 DETAILS
Sweet Potato Pancakes
Enjoy a delicious brunch with our recipe for sweet potato pancakes. These fluffy and flavorful pancakes are the perfect balance of sweet and savory. Don't wonder any longer what pancakes taste like with sweet potato in them – try our easy recipe today!



INGREDIENTS
10 oz Organics Sweet Potatoes cooked according to package directions
1 ½ cups Flour
3 ½ tsp Baking Powder
1 tsp Salt
2 Eggs Beaten
1 ½ cups Milk
¼ cup Butter Melted
INSTRUCTIONS
In a medium bowl, sift flour, baking powder and salt.

Mix Mashed Sweet Potatoes, eggs, milk and butter in separate medium bowl.

Blend until pretty smooth, removing as many lumps as possible and then blend sweet potato mixture into flour mixture to form batter.

Drop batter (¼ cups mixture per pancake) on preheated greased griddle (medium-high) and until until golden brown, turning once.

Serve pancakes with syrup or honey and walnuts.