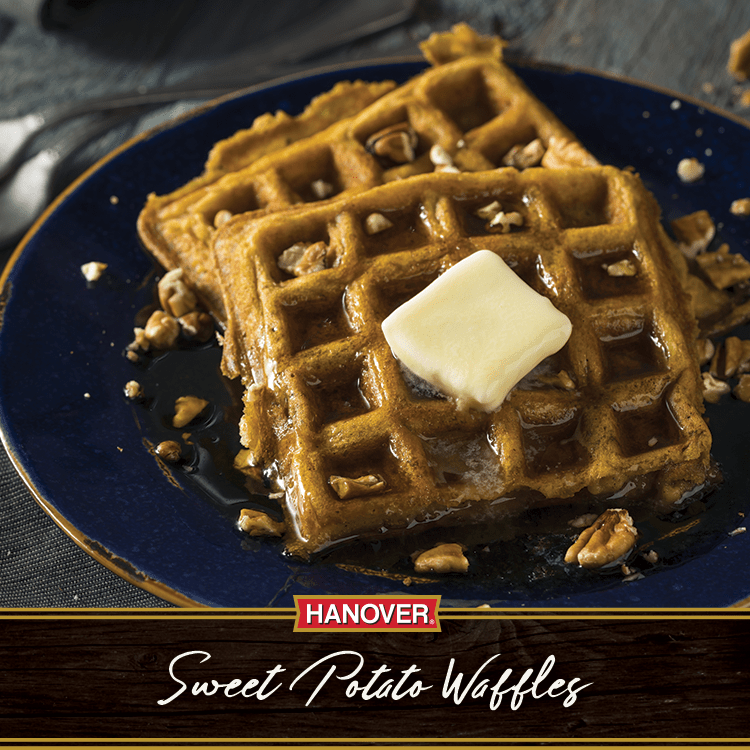 DETAILS
Sweet Potato Waffles
Looking for a tasty way to kickstart your day? Look no further than our Sweet Potato Waffles recipe! Made with Hanover's Organic Sweet Potatoes, these waffles are the perfect blend of crispy and fluffy, with a natural sweetness that's sure to satisfy. They're a great choice for a healthy and delicious breakfast or brunch. If you're tired of the same old Sunday waffles, give these a try – they're a sweet twist on a classic favorite!



EQUIPMENT
Medium Bowl

Large Mixing Bowl

Waffle Iron
INGREDIENTS
2 ½ cups Flour
]⅓ cup Sugar
1 tbsp Baking Powder
½ tsp Baking Soda
1 ½ cups Milk
10.5 oz Hanover Foods Mashed Sweet Potatoes
4 Eggs
¾ tsp Vanilla Extract
½ Stick Unsalted Butter Melted
INSTRUCTIONS
Preheat oven to 200 degrees F°.

In a large mixing bowl, combine dry ingredients and mix well.

In a medium bowl, whisk together milk, Mashed Sweet Potatoes, eggs, and vanilla until combined. Stir sweet-potato mixture into flour mixture and melted butter until blended – some lumps may remain.

Heat a waffle iron to medium-high and lightly brush grids with melted butter. Ladle about 1/2 cup batter into center of iron (grids should be full but not overflowing), close, and cook until iron stops steaming and waffles are golden brown, about 4 minutes (or make according to waffle iron manufacturer's instructions). Transfer waffles to wire rack in oven to keep warm.

Repeat with remaining batter. Serve with butter and maple syrup.