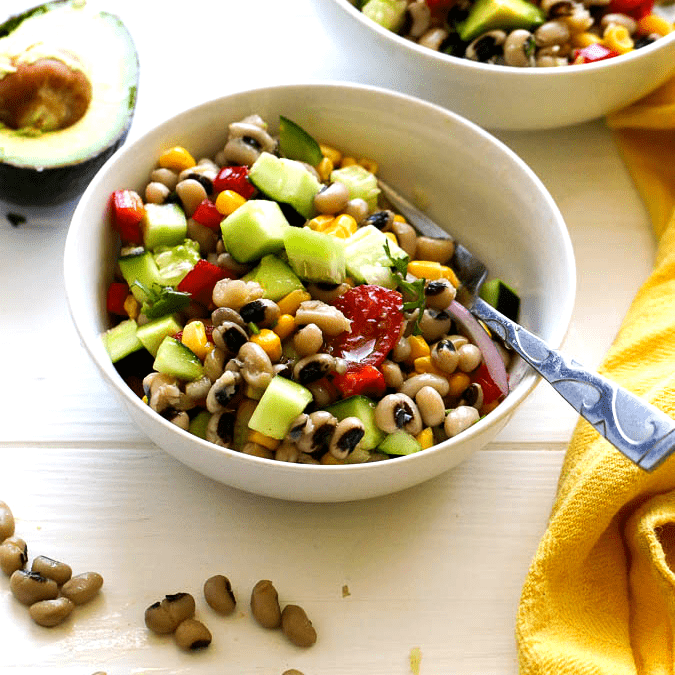 DETAILS
Black-Eyed Pea Salad
A Bold Southern-style bean salad that produces various and wonderful texture, with creamy avocado. Can be made ahead of time, no wilting involved and is perfect for tailgates, picnics, barbecues and potlucks.



Large Mixing Bowl Cutting Board Pressure Cooker
Dressing/Marinade
medium Orange
Lemon
Lime
garlic
small onion
cumin
Squeeze out juice from orange, lemon and lime into a non- reactive pan. Add cumin, honey, garlic, onion, oil and herbs. Whisk everything together then lightly salt and pepper to taste. Mix well to combine , adjust for seasoning. Refrigerate until ready to use.
Drain and rinse beans from can and place in a large bowl. Repeat this process for the corn. Add diced cucumber, bell pepper, cherry tomatoes. Dice avocados and drizzle with lemon to prevent discoloration, before adding to the rest of the vegetables.
Pour over the dressing/marinade mixture over the salad, stir to coat, cover and place in the fridge for 2 hours or more before serving. Take note to stir in occasionally.
Give it a stir before serving.
Rinse black eyed pea beans and pick through and discard any foreign object. (I did not have to do this since I use the packaged beans.)
cumin
olive oil
Honey