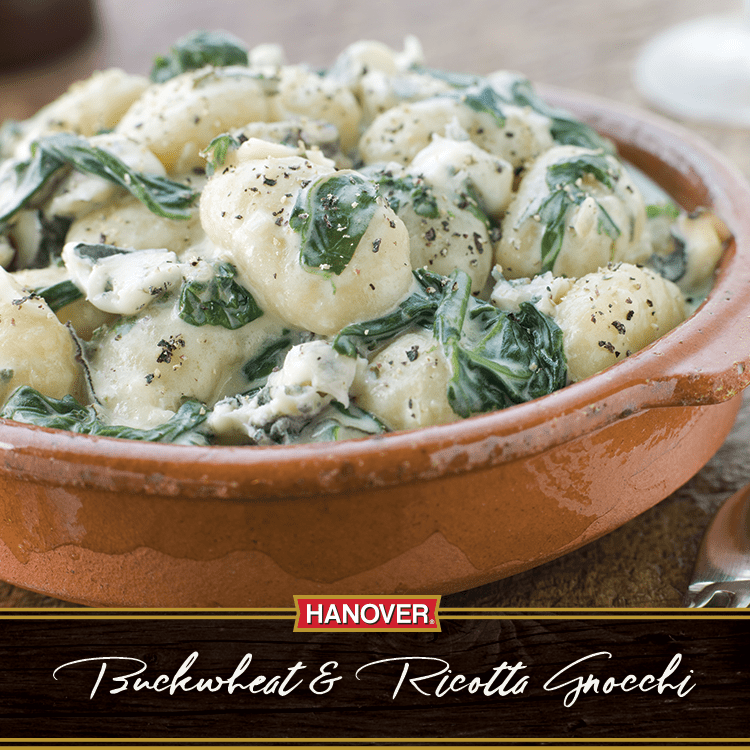 DETAILS
Buckwheat & Ricotta Gnocchi
A fantastic dinner idea! Great for everyone, they'll wonder how you did it all yourself!qq



Bowl  Plastic Wrap Scissors Paper-Lined Baking Sheet
Whole-Milk Ricotta
Pecorino Romano
Salt
Nutmeg
Black Pepper
Egg Yolks
All-Purpose Flour
Stir ricotta, pecorino, 2 tsp. salt, 1/4 tsp. nutmeg, 1/4 tsp. pepper, and yolks in a bowl until smooth.
Add flour and, using your hands, mix until a slightly firm dough forms.
Quarter the dough and cover loosely with plastic wrap.
On a lightly floured surface, and working with one-quarter dough at a time, use your hands to roll dough into a 1/2" thick rope. Cut rope crosswise into 1/4" gnocchi.
Transfer gnocchi to a semolina-dusted, parchment paper-lined baking sheet. Separate gnocchi to prevent sticking.
Bring a large pot of generously salted water to a simmer over medium-high.
All-Purpose Flour
Semolina Flour
Hanover Foods Frozen Peas