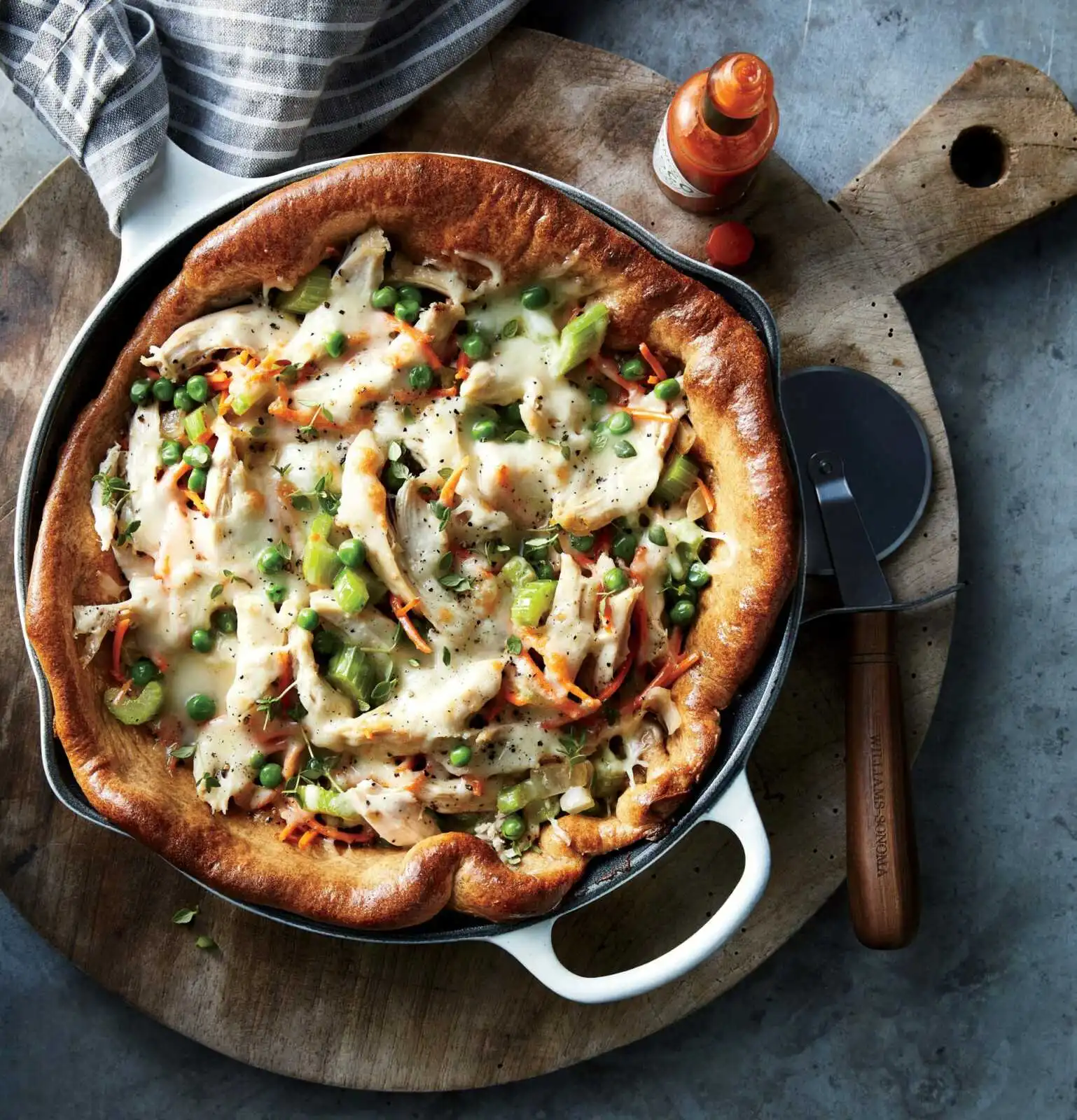 DETAILS
Chicken Potpie Skillet Pizza
Try this quick, playful spin to turn pizza night on its head—in a good way. You get all the creamy goodness of chicken potpie, in a fun, eat-with-your-hands way that kids will love. Grown-ups will dig it, too, especially if you offer hot sauce at the table. Cooking the pizza in a preheated cast-iron skillet makes the crust wonderfully crispy so that it doesn't sog out when the creamy sauce goes on. Be sure to use only 10 ounces of dough (though you'll likely have to purchase in a 1-pound or larger ball); save the remaining dough to make breadsticks the next night.



cast iron skillet stove / oven
Olive oil
onion
carrot
celery
frozen Hanover green peas
all-purpose flour
unsalted chicken stock
Place a 12-inch cast-iron skillet in oven, and preheat oven to 500°F. (Do not remove skillet while oven preheats.)
Heat 1 teaspoon oil in a large nonstick skillet over medium-high. Add onion; sauté 2 minutes. Add carrot, celery, and peas; sauté 1 minute. Remove mixture from skillet; set aside.
Add flour and 1 tablespoon oil to nonstick skillet. Cook 30 seconds, whisking constantly. Slowly add stock, stirring constantly. Bring to a boil; reduce heat and simmer, whisking often, until mixture is thickened, about 3 minutes. Remove from heat.
Place dough on a lightly floured surface; roll into a 12-inch circle. Carefully place dough in preheated cast-iron skillet; flatten to cover bottom of pan. Bake in preheated oven until crust is lightly browned, about 5 minutes. Remove from oven; increase heat to broil. Top pizza crust with 1/2 cup stock mixture. Sprinkle with onion mixture, chicken, and cheese. Broil until cheese is melted, about 2 minutes. Drizzle with remaining stock mixture. Sprinkle with thyme, pepper, and salt.
unsalted chicken stock
refrigerated fresh whole-wheat pizza dough
skinless rotisserie chicken breast