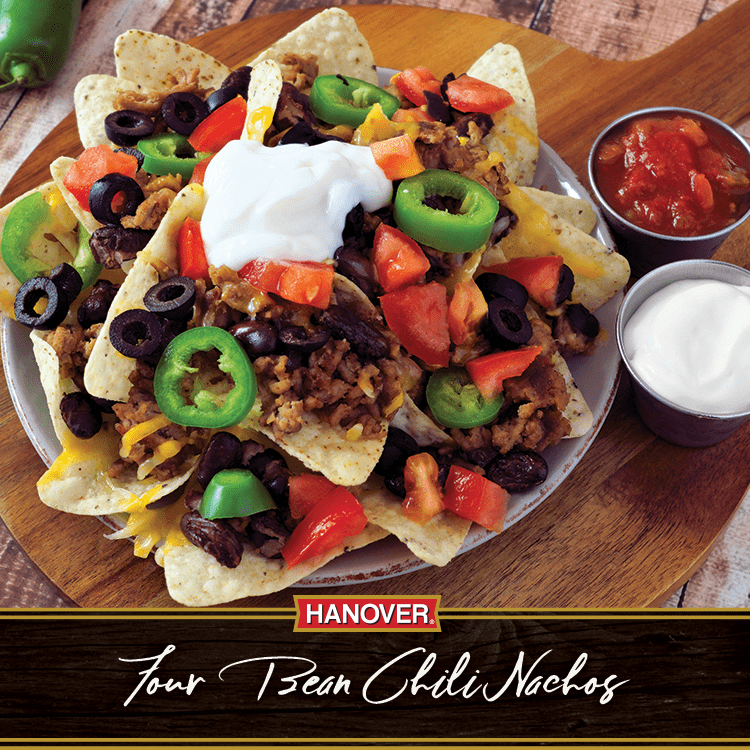 DETAILS
Four Bean Chili Nachos
Wanna try something simple, yet fun? Try out this Four Bean Chili Nacho recipe! Whether it be for the big game or part of dinner it's sure to make your guest and the kids happy.

Course
Appetizer Main Course


Ground Beef
Chili Powder
Garlic Powder
Onion
Oil
Cloves of Garlic
Salsa
Brown ground beef in a skillet. Add chili powder and garlic powder. Once browned, drain the ground beef and set to the side.
Chop one onion and sauté in oil.
Chop the garlic, add to the onion and sauté until translucent.
Add ground beef, onions, garlic, salsa and tomato sauce to the crock pot. Add the beans to the crock pot and stir.
Heat on high in crock pot for 3 to 4 hours.
Serve over tortilla chips. Top with  nacho cheese, diced tomato, red onion and jalapeños. Finish it off with green onions and sour cream
Salsa
Tomato Sauce
Hanover Foods Light Red Kidney Beans