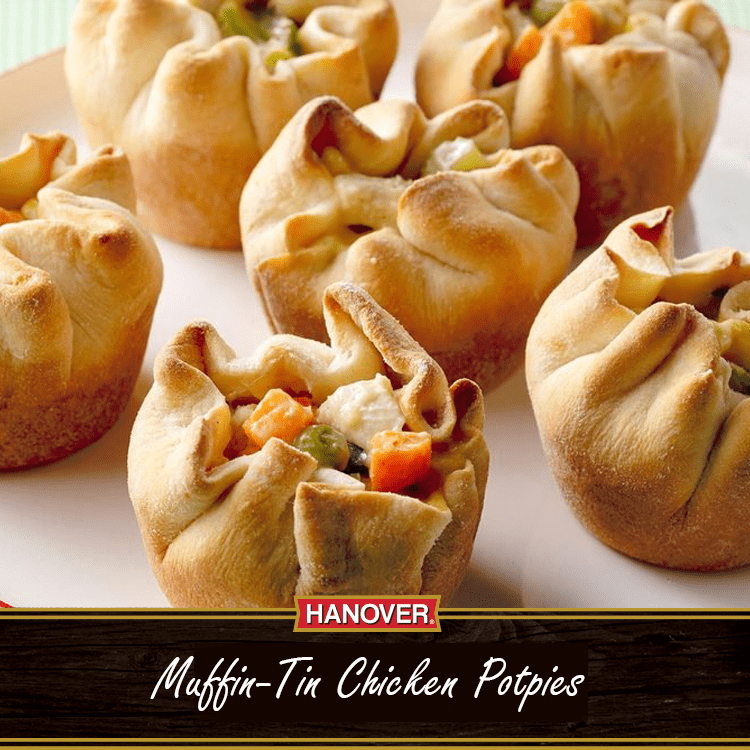 DETAILS
Muffin-Tin Chicken Potpies
Personalized chicken pot pies in muffin tins are great for kids and adults love them too. Try this easy and fun dish to enjoy with the family.



butter
celery ribs, sliced
chopped onion
Hanover Frozen mixed vegetables
condensed cream of chicken soup
milk
onion powder
Preheat oven to 375°. In a large skillet, heat butter over medium heat; saute celery and onion until tender, 4-5 minutes. Stir in vegetables, soup, milk and seasonings; heat through, stirring occasionally. Stir in chicken; remove from heat
On a lightly floured surface, roll each biscuit into a 5-in. circle. Press each onto the bottom and up sides of a greased muffin cup, allowing edges to extend above cup. Fill with about 3 tablespoons chicken mixture. Pull up edges of dough and fold partway over filling, pleating as needed
Bake until golden brown and filling is bubbly, 15-18 minutes. Cool 1 minute before serving.
onion powder
garlic salt
dried thyme