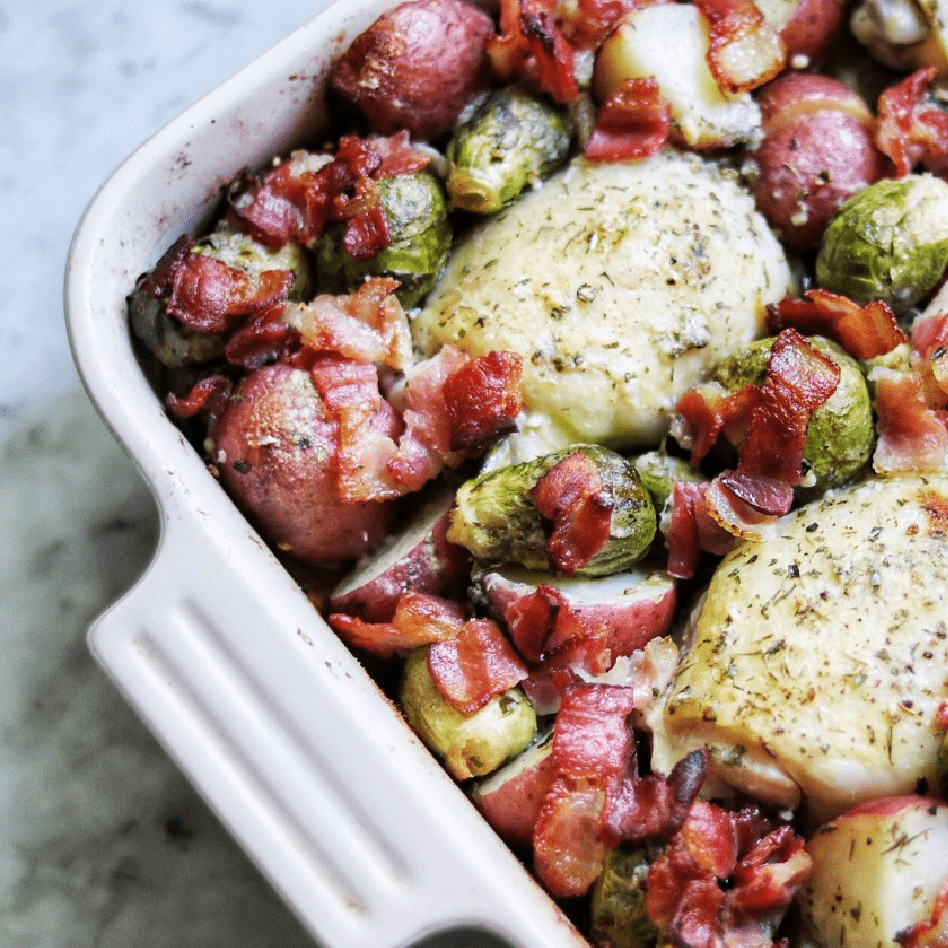 DETAILS
Ranch-Baked Chicken Thighs with Bacon, Brussels Sprouts, and Potatoes
Savory, zesty ranch-seasoned chicken thighs cook together with potatoes, Brussels sprouts, and bacon in this one-pan dinner. The vegetables cook with the bacon on top of them, infusing them with bacon-y deliciousness.



9×13-inch baking dish Oven
bone-in chicken thighs
red potatoes
Hanover Foods Brussel Sprouts
minced garlic
olive oil
Cracked salt and freshly ground black pepper to taste
dried thyme
Preheat the oven to 400 degrees F (200 degrees C). Place chicken thighs in a 9×13-inch baking dish.
Toss potatoes, Brussels sprouts, and garlic together with olive oil in a bowl until vegetables are lightly coated. Add vegetables around and between chicken thighs in the baking dish. Season with salt, pepper, and thyme. Evenly pour the entire packet of ranch seasoning over chicken and vegetables. Sprinkle chopped bacon on top.
Bake in the preheated oven until chicken is no longer pink at the bone and the juices run clear, 30 to 35 minutes. An instant-read thermometer inserted near the bone should read 165 degrees F (74 degrees C).
Set an oven rack about 6 inches from the heat source and preheat the oven's broiler. Place the baking dish under the broiler and cook until chicken skin becomes golden brown and a bit crisp, 2 to 3 minutes
dried thyme
package of ranch dressing mix
bacon