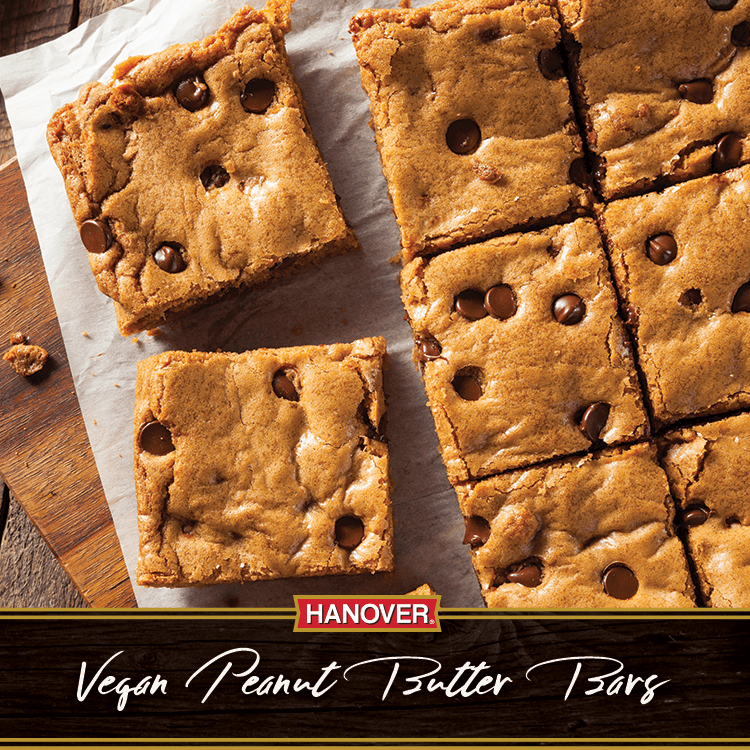 DETAILS
Vegan Peanut Butter Bars
Sounds pretty unbelievable, we know but trust us, it's a healthier alternative to the non-vegan version of this recipe, give it a try!



Oven  8×8 Inch Pan Large Bowl Cooking Spray
Hanover Foods Garbanzo Beans
Peanut Butter
Pure Maple Syrup
Vanilla
Salt
Baking Powder
Baking Soda
Preheat oven to 350 F°, and spray 8×8 inch pan with nonstick cooking spray.
Add all ingredients in a large bowl except chocolate chips and mix until batter is smooth.
Fold in chocolate chips.
Spread batter evenly in prepared pan then sprinkle 2 tablespoons of chocolate chips on top.
Bake for 20-25 minutes or until toothpick comes out clean and edges are a tiny bit brown.
Cool and sprinkle with sea salt then cut into squares.
Baking Soda
Vegan Chocolate Chips
Sea Salt