Low Calorie
Hanover Green & Red Peppers & Onion Strips
Good Source of Vitamin C | Good Source of Vitamin A
Hanover Green & Red Peppers & Onion Strips
Hanover Green & red Peppers & Onion Strips are pre-cut to reduce prep time.  Add your favorite protein for a quick breakfast, lunch or dinner.  Quick add in to your southwestern soups.
PRODUCT DETAILS
Hanover Green & Red Peppers & Onion Strips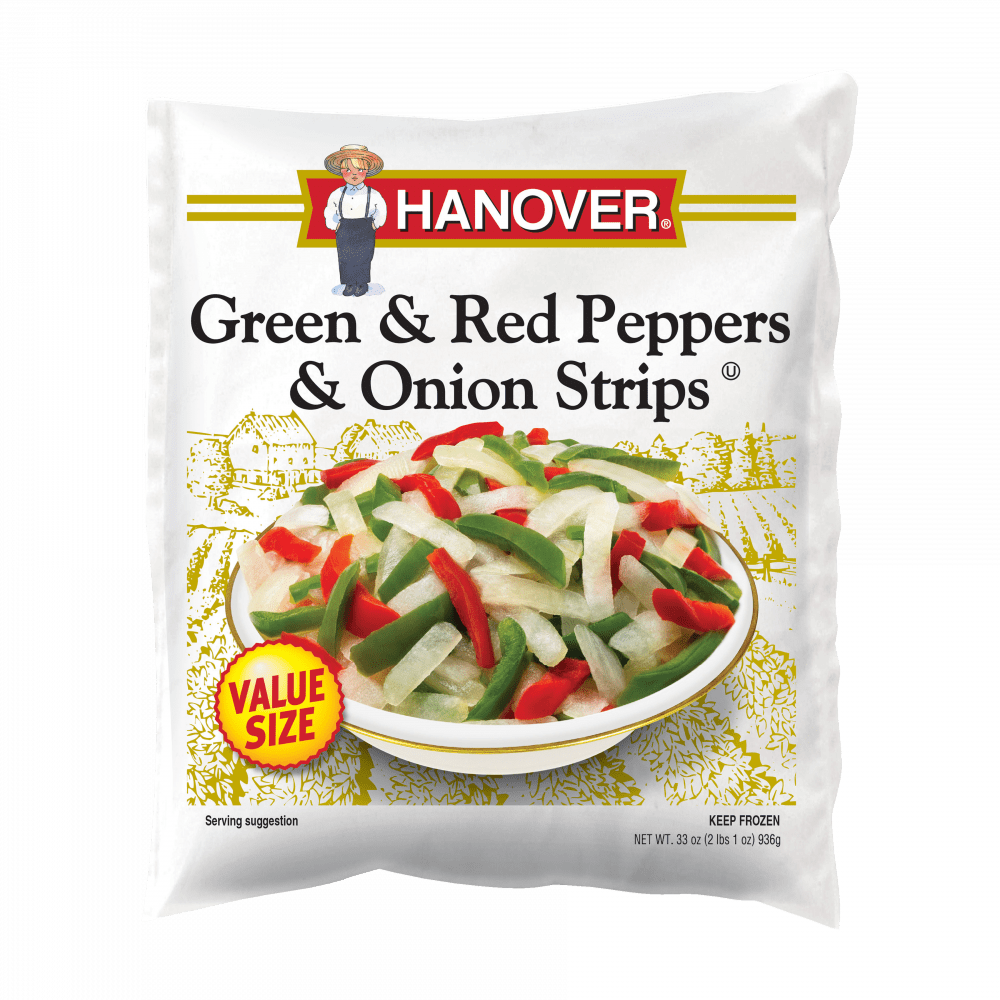 Looking for a quick, healthy, and tasty addition to your meals? Look no further than Hanover Green & Red Peppers & Onion Strips. Our Value Size 33oz bag is perfect for bulk-buying and freezing, ensuring that you always have fresh and flavorful vegetables on hand.
With only 30 calories per serving, our Green & Red Peppers & Onion Strips are an excellent option if you're watching your calorie intake. They're also free from fat and cholesterol and low in carbs. And, because they're pre-cut, they reduce your prep time significantly.
To cook, you can either microwave or use stovetop cooking directions. For microwave cooking, simply place the vegetables and 1/4 cup water in a 2-quart microwaveable dish, cover, and cook for 8-10 minutes at high power. Drain excess liquid, season to taste, and serve. If you prefer a softer texture, increase cooking time slightly.
For stovetop cooking, place the vegetables and water (3/4 cup per pound) in a saucepan. Then, cover and bring to a full boil. Reduce the heat and simmer for 5-7 minutes or until tender. Drain, season to taste, and enjoy.
At Hanover Foods, we're committed to providing quick, convenient, and healthy options for your family. Our vegetables are picked when they're perfectly ripe and individually quick-frozen to ensure consistent quality, freshness, and texture. Plus, there are no artificial colors, flavors, or preservatives added.
So, whether you're looking to create a tasty southwestern dish or add some flavor to your omelet, Hanover Green & Red Peppers & Onion Strips are the perfect choice. Just be sure to heat them to a temperature of 160 degrees F for food safety and quality. And, don't forget to refrigerate leftovers promptly and keep them frozen until you're ready to use them again.
Onions, Green Peppers, Red Peppers.
Serving Size: 2/3 cup (85g)
Calories: 30
Total Fat: 0g
Saturated Fat: 0g
Trans Fat: 0g
Cholesterol: 0mg
Sodium: 0mg
Total Carb.: 6g
Dietary Fiber: 1g
Total Sugars: 3g
Incl: 0g Added Sugars
Protein: 1g
Vitamin D: 0mcg
Calcium: 13mg
Iron: 0mg
Potassium: 131mg