Low Sugar
Maryland Crab Soup Mix
PRODUCT DETAILS
Maryland Crab Soup Mix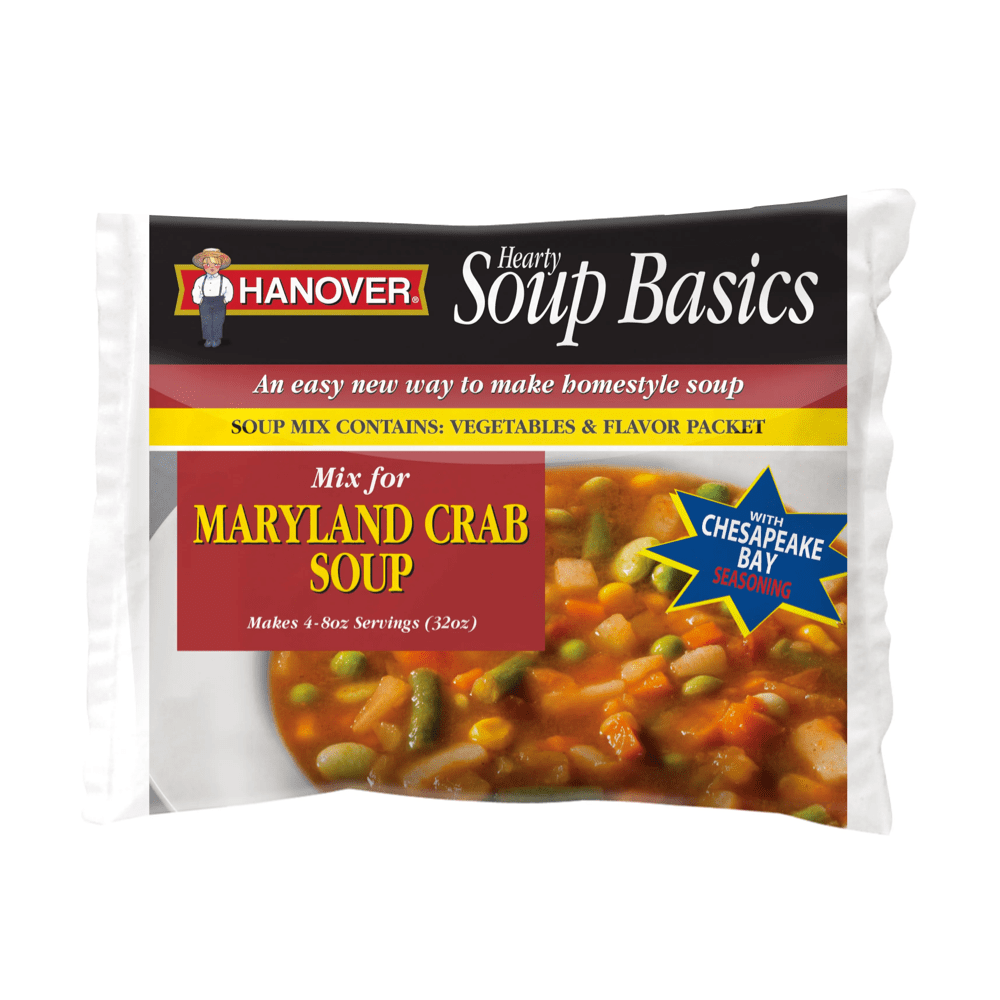 Are you craving for some delicious homestyle soup but don't have the time to prepare it from scratch? Try Hanover Foods' Maryland Crab Soup Mix! This soup mix is a blend of fresh vegetables, crabmeat, tomatoes, and classic Chesapeake Bay spices. With Hanover's Soup Basics kits, you can easily enjoy the convenience of a heat-and-serve soup mix. All you need to do is add water and crab meat, and voila! You'll have a hearty and delicious soup in no time. Plus, it comes in different varieties that you can try!
Hanover Food's Maryland Crab Soup Mix is packed with all the flavor of traditional Maryland Crab Soup. Just add 3-4oz of crab meat while heating, and you'll have a restaurant-quality soup in the comfort of your home. The soup mix uses fresh vegetables like green peas, carrots, corn, green beans, and baby lima beans, which are all picked at their prime ripeness and individually quick-frozen to capture their true fresh flavor.
Preparing a delicious soup for a comfortable night at home has never been easier with Maryland Crab Soup Mix. The taste is so rich that it's also a great addition to serve at your next dinner party. Sprinkle grated Parmesan cheese on top before serving to create a beautiful presentation and add a little extra pizzazz. Since Hanover Foods has taken all the prep work out for you, you can focus on entertaining your guests. Each spoonful of the delicious veggies in a hearty tomato-based broth seasoned perfectly will delight everyone's taste buds. It is also hearty enough to satisfy the biggest appetites.
Here are the cooking instructions:
1. Add 2 cups of water, soup vegetables, and the contents of the seasoning packet in the Maryland Crab Soup Mix to a saucepan.
2. Bring the soup to a boil, stirring frequently.
3. Cover, reduce heat, and simmer for 15-20 minutes or until the vegetables are tender.
Water, Tomatoes, Potatoes, Cabbage, Green Peas, Corn, Green Beans, Celery, Onions, Baby Lima Beans, Seasoning Packet: Tomato Paste (Tomatoes), Beef Base (Roasted Beef including Beef Juices, Salt, Hydrolyzed Corn Gluten, Hydrolyzed Soy Protein, Flavoring, Corn Oil, Sugar, Potato Flour, Caramel Color), Seafood Seasoning (Salt, Spices, Paprika, and Monosodium Glutamate, Soy Oil), Chicken Base(Chicken Meat including Natural Chicken Juices, Salt, Autolyzed Yeast Extract, Flavorings, Sugar, Potato Flour, Rendered Chicken Fat and Turmeric), Crab Base (Baked Crab Meat including Natural Crab Juices, Salt, Sugar, Maltodextrin [from Corn], Modified Potato Starch, Butter [Cream Flavorings], Corn Oil, Natural Flavorings, Onion Powder). Contains: Milk, Crustacean Shellfish (Crab), Soy
Serving Size: 1 cup (245g) -as prepared
Calories: 70
Total Fat: 0.5g
Saturated Fat: 0g
Trans Fat: 0g
Cholesterol: 0mg
Sodium: 880mg
Total Carb.: 13g
Dietary Fiber: 3g
Total Sugars: 4g
Incl: 0g Added Sugars
Protein: 3g
Vitamin D: 0mcg
Calcium: 30mg
Iron: 0.8mg
Potassium: 300mg