Good Source of Protein
Seasoned Select Beans Tex-Mex Style
Good Source of Iron | Good Source of Fiber
Seasoned Select Beans Tex-Mex Style
Hanover Seasoned Select Beans Tex-Mex Style add some spice to your next meal.  We've put our Red Beans in a Spicy Tomato Sauce with Chipotle Peppers to create an authentic Tex-Mex flavor.
Check out our entire Collection of Seasoned Select Beans to add variety and a quick flare to your meals.
PRODUCT DETAILS
Seasoned Select Beans Tex-Mex Style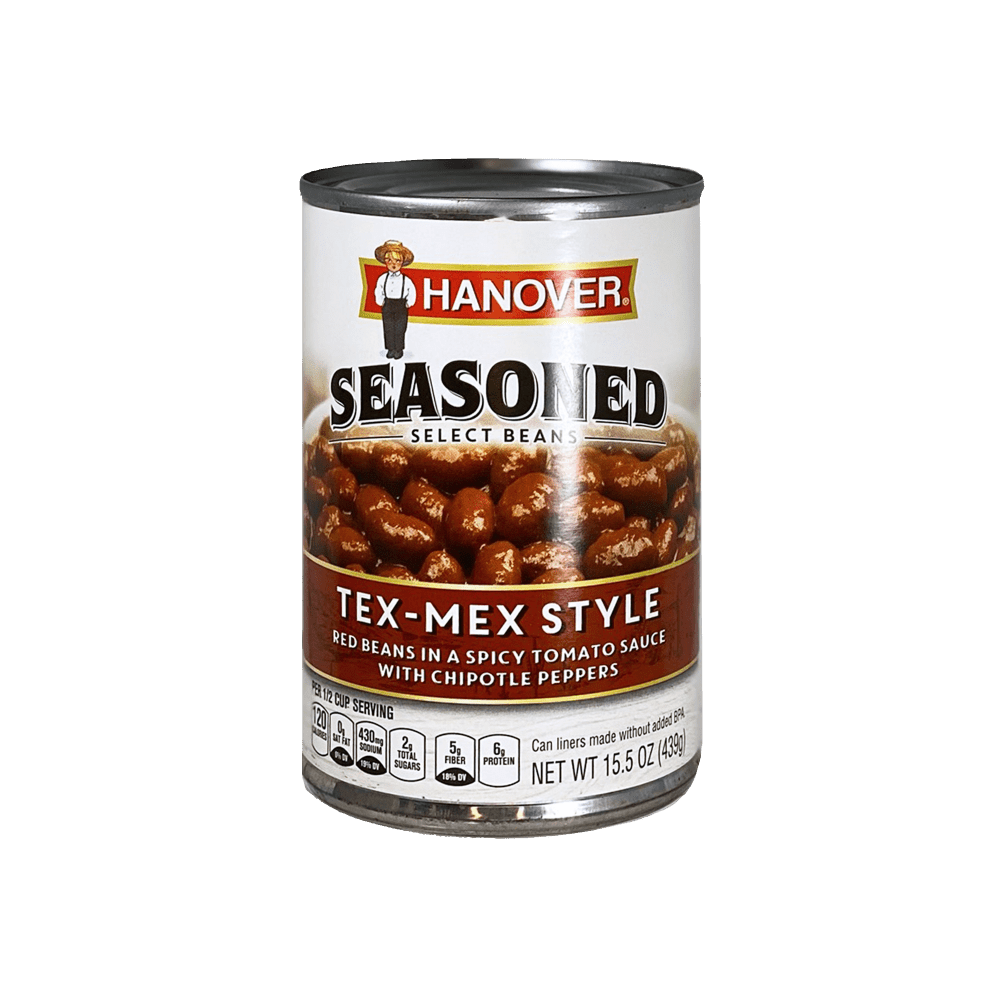 Seasoned Select Beans Tex-Mex Style a quality product from Hanover Foods, that are low in cholesterol.  Additionally, the are a good source of fiber, iron and protein. Serve them with your morning eggs to create breakfast to satisfy your hunger.  Add them to your tacos for some spice or use them to create a stand out chili.  Get creative with your meals! Try out our Carrot Chips Featuring this product
Prepared Red Beans, Water, Tomato Paste, Soybean and Olive Oil, Salt, Pepper, Powders (Green Bell, Chipotle, and Green Chili), Onion Powder, Garlic Powder, Modified Corn Starch, Natural Flavoring, Natural Smoke Flavoring, Spice, Citric Acid, and Caramel Coloring.
Serving Size:1/2 cup (130g)
Calories: 120
Total Fat: 1.5g
Saturated Fat: 0g
Trans Fat: 0g
Cholesterol: 0mg
Sodium: 430mg
Total Carb.: 21g
Dietary Fiber: 5g
Sugars: 2g
Includes 0g Added Sugars
Protein: 6g
Vitamin D: 0mcg
Calcium: 52mg
Iron: 2mg
Potassium: 297mg