No Preservatives | No Trans Fat
Wege Sourdough Hard Pretzels
Wege Sourdough Hard Pretzels are made with a century old recipe full of a rich, sourdough flavor.  We have removed all preservatives and no trans fats from our pretzels. Our pretzels are made from the finest ingredients and cooked to perfection!
PRODUCT DETAILS
Wege Sourdough Hard Pretzels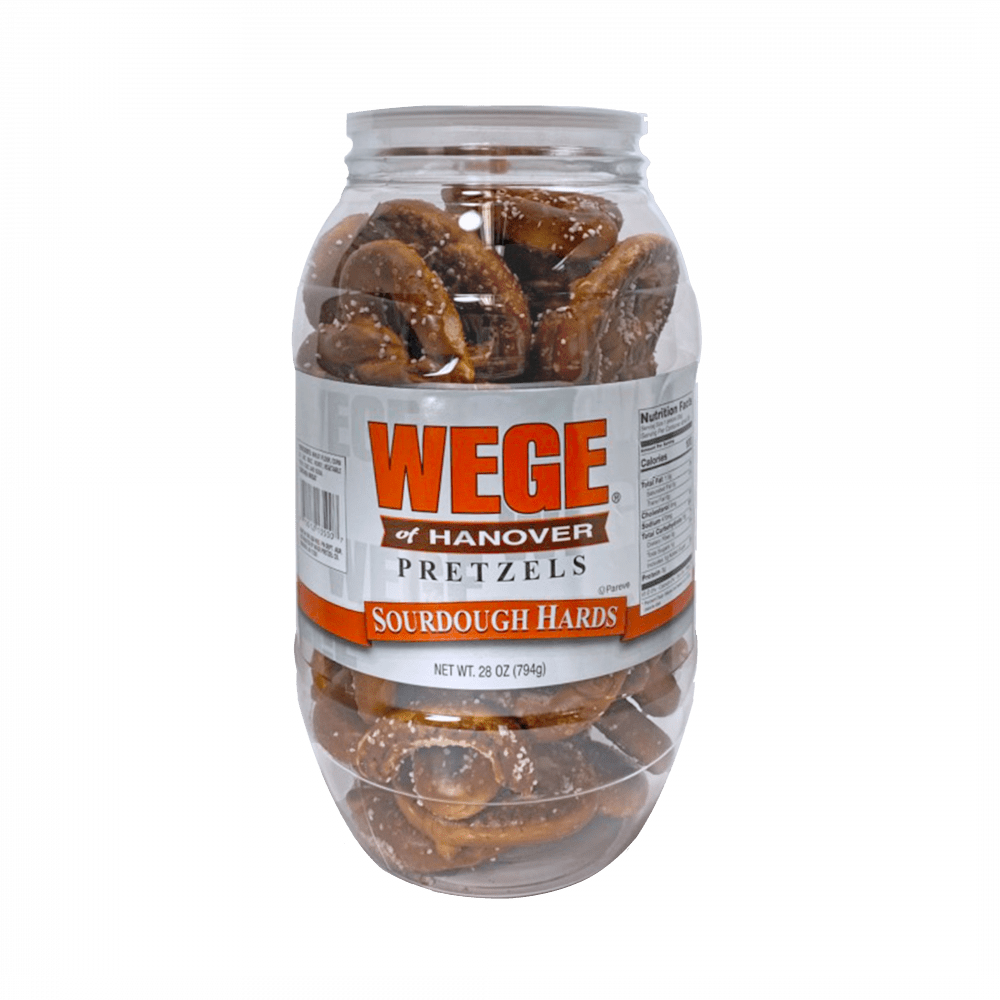 Wege Sourdough Hard Pretzels are full of rich, sourdough flavor and featuring a satisfying crunch with every bite, these Wege of Hanover 28 oz. sourdough hard pretzels make the ideal addition to happy hour. These pretzels are perfect for serving alongside an iced cold beer or classic cocktail. They have a traditional dark color with a delicious sourdough flavor. Each pretzel is handmade with care to ensure the greatest quality possible. Plus, they are fat free and sugar free for your health-conscious customers!
These pretzels are perfect for bars, restaurants, hotels, and catered events. They are a traditional German sourdough hard pretzel, large in size and abundant in flavor. Serve with nuts, chips, and other snacks at a party or catered event, or offer them at the bar to complement your most popular brews. With these pretzels, you'll be able to offer an iconic item from a brand your customers know and love.
One of the oldest and most respected names in the pretzel baking industry, Wege of Hanover got its start in the late 1800s baking breads and rolls in the quaint town of Hanover, Pennsylvania. In the early 1920s, a German immigrant baker went to work for Wege, and while employed, he taught the Wege family an old German recipe for making a large sourdough hard pretzel, the one by which Wege is now famous. Over time, Wege of Hanover discontinued their production of breads and rolls in order to concentrate on the production of sourdough hard pretzels, and has since expanded their pretzel selection to include whole wheat varieties, flavored, all natural, organic, and kosher options.
Wheat Flour, Vegetable Fiber, Salt, Corn Oil, Malt, Honey, Yeast and Soda.
Serving Size: 1.0oz
Calories: 100
Total Fat: 1g
Saturated Fat: 0g
Trans Fat: 0g
Cholesterol: 0mg
Sodium: 240mg
Total Carb.: 22g
Dietary Fiber: 1g
Total Sugars: 0g
Protein: 3g