Premium Streamed in Bag Vegetables
Line Baby Lima Beans
Premium | Steam in Bag
Line Baby Lima Beans
Looking for a healthy side dish to add to your meal? Hanover Premium Baby Lima Beans are a great option! Our beans are picked at the perfect ripeness and then individually quick frozen to guarantee consistent quality, texture, and freshness. They come frozen, so you can keep them fresh until you're ready to serve. Plus, they are both low in fat and cholesterol, making them a delicious and nutritious choice to round out any meal.
PRODUCT DETAILS
Line Baby Lima Beans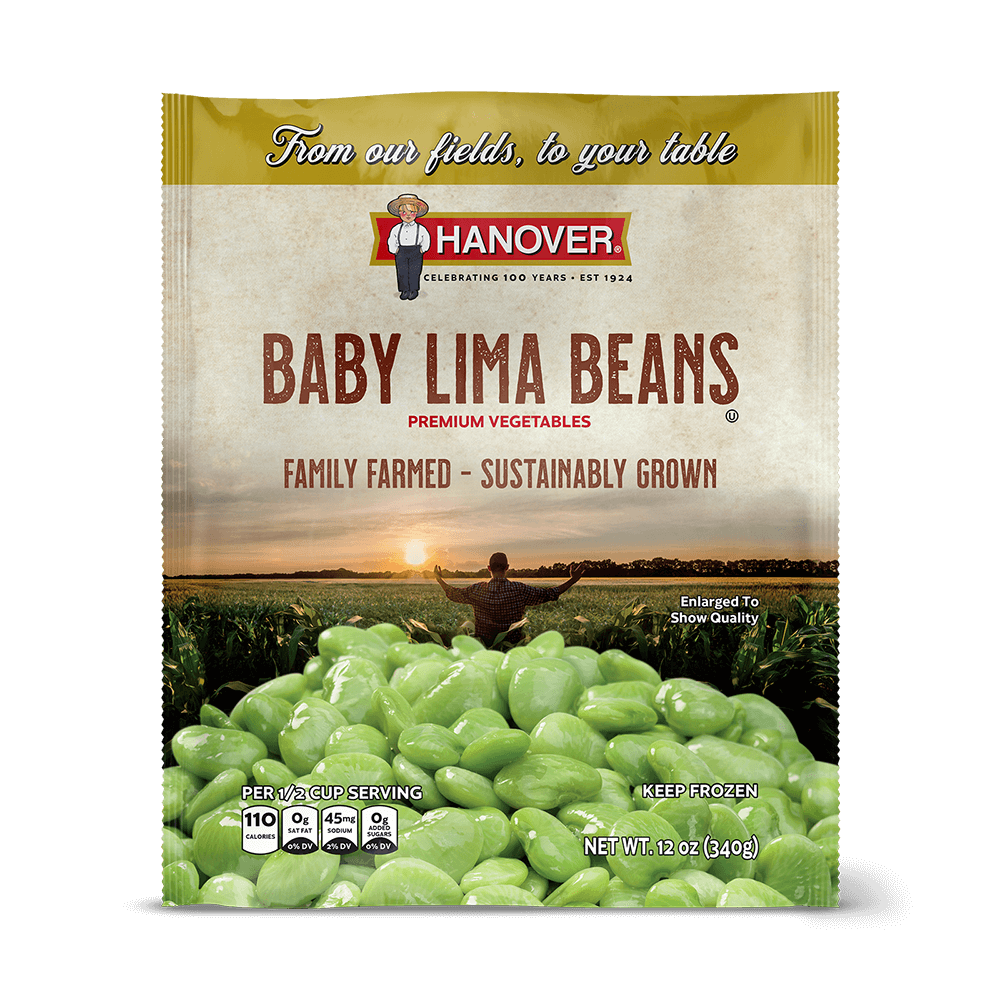 We are proud to offer Premium Baby Lima Beans at Hanover Foods. These beans are packed with Vitamin C and are harvested using sustainable farming methods. Our focus has always been on quality, which is why we take great care in controlling our crops to ensure consistent freshness and texture.
Our baby lima beans have a delicate flavor that pairs well with a variety of dishes. They have a creamy texture that complements pasta, meats, and fish, making them a versatile addition to any meal. Additionally, their mild taste makes them a great option for enhancing your favorite soups and casseroles.
Our Baby Lima Beans are free from fat and cholesterol and are a great source of dietary fiber, which helps promote digestive regularity and keeps you feeling full longer. They come frozen for your convenience and to ensure they stay fresh until you're ready to enjoy them.
At Hanover Foods, we are committed to providing quick, healthy options for your family without sacrificing taste or quality. We hope you enjoy our Premium Baby Lima Beans as much as we do!
Stove Top Cooking Directions:
1. Empty contents of the Hanover Premium Baby Lima Beans bag into a 2-quart saucepan. Then add 1/2 cup water.
2. Cover and cook over medium heat for 7 to 12 minutes or to your desired tenderness, remember to stir the baby lima beans occasionally.
3. Let stand for 1-2 minute. After that drain and season the baby lima beans to taste.
For food safety and quality, follow cooking directions and heat to a temperature of 165°F. Promptly refrigerate unused portions.
Serving Size:1/2 cup (85g)
Calories: 110
Total Fat: 0g
Saturated Fat: 0g
Trans Fat: 0g
Cholesterol: 0mg
Sodium: 80mg
Total Carb.: 21g
Dietary Fiber: 5g
Total Sugars: 2g
Incl: 0g Added Sugars
Protein: 6g
Vitamin D: 0mcg
Calcium: 30mg
Iron: 2mg
Potassium: 380mg