Premium Streamed in Bag Vegetables
Shoepeg Corn
Premium | Steamed in Bag
Shoepeg Corn
Including Hanover Shoepeg Corn in your diet is a healthy choice. Its kernels are crunchy and naturally sweet. Hanover Foods offers "Guest Quality" vegetables in their Gold Line collection, which are the best selection for adding a special touch to any meal. Each vegetable is distinct and has a delicious taste. The Gold Line is perfect for both you and your guests.
PRODUCT DETAILS
Shoepeg Corn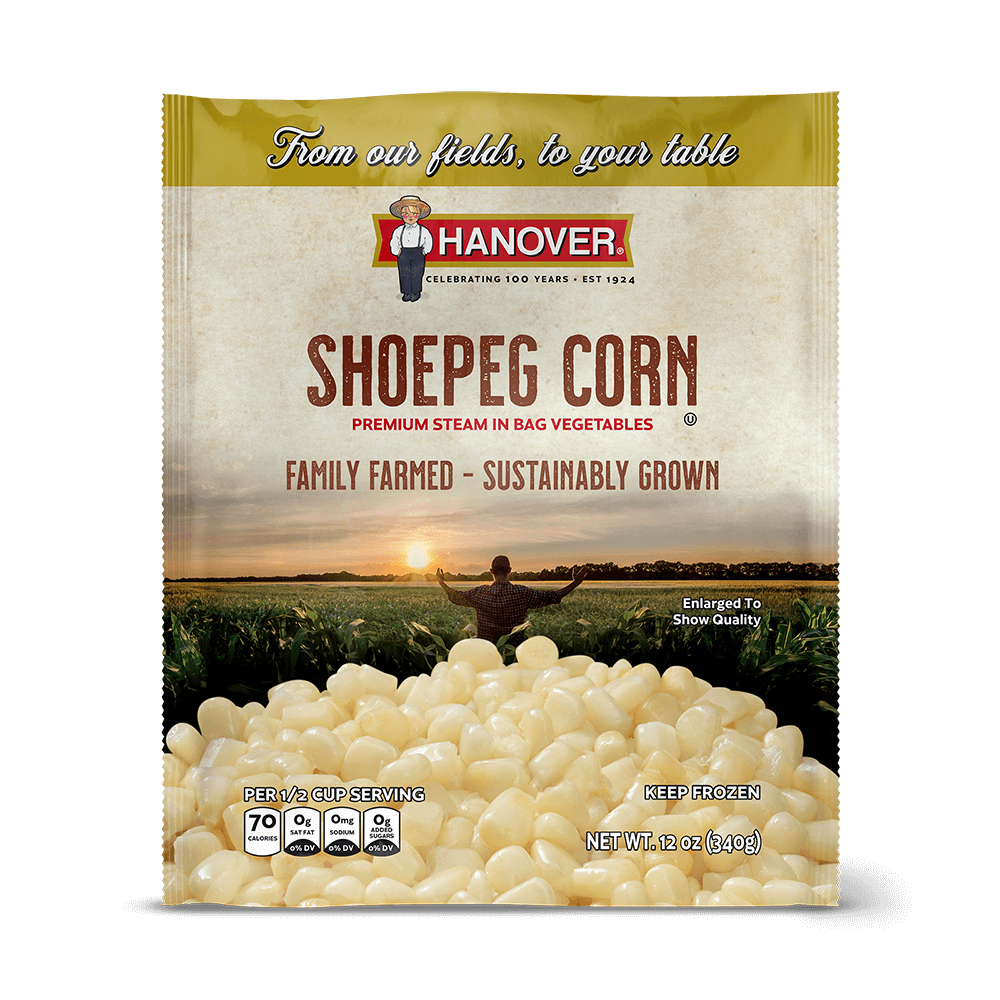 Introducing Hanover Shoepeg Corn – a premium corn packed with natural sweetness, brought to you by Hanover Foods. We pride ourselves on using sustainable farming methods, making quality our top priority for almost a century. Our earth-friendly practices and crop control set us apart from our competitors. Our Gold Line vegetables are hand-picked for their superior quality, adding a distinctive touch to any meal. Each vegetable has a unique, delicate and delicious taste, making the Gold Line the perfect choice for you and your guests.
Hanover Shoepeg Corn is conveniently packed for a quick and easy Steam-In-Bag side dish, perfect to pair with any meal including pasta, meats, and fish. Its premium quality makes it a perfect addition to your next dinner party. We never add artificial colors, flavors or preservatives to our Shoepeg Corn, as we are committed to providing quick, convenient, and healthy options for your family. Our products maintain superior taste and quality, which you can depend on for decades.
Microwave Directions: 
1. Place Hanover Shoepeg Corn bag this side up in microwave. Microwave on high for 4 1/2 to 5 1/2 minutes. Bag will inflate and vent.
2. Let stand 1 minute. After that remove carefully and cut open where indicated.
3. Pour into serving dish and above all enjoy!
Stove Top Cooking Directions:
1. Empty contents of the Hanover Shoepeg Corn bag into a 2-quart saucepan. Then add 1/4 cup water.
2. Cover and cook over medium heat for 4 to 6 minutes, remember to the corn stir occasionally.
3. Let stand for  2 minute. After that season to taste.
For food safety and quality, follow cooking directions and heat to a temperature of 160°F. Promptly refrigerate unused portions.
Serving Size: 2/3 cup (85g)
Calories: 80
Total Fat: 0.5g
Saturated Fat: 0g
Trans Fat: 0g
Cholesterol: 0mg
Sodium: 10mg
Total Carb.: 15g
Dietary Fiber: 2g
Total Sugars: 4g
Incl: 0g Added Sugars
Protein: 3g
Vitamin D: 0mcg
Calcium: 0mg
Iron: 0.4mg
Potassium: 180mg