Premium Streamed in Bag Vegetables
Leaf Spinach
Premium | Steamed
Leaf Spinach
Hanover Leaf Spinach is a healthy addition to your diet.  It is vitamin rich making it easy to add extra nutrients to your daily life.  Simply add to your pot of soup, a baked pasta dish, or a egg casserole.  Hanover Foods Gold Line vegetables are "Guest Quality" vegetables.  These selected varieties are the premium pick which truly add a distinctive touch to any table.  Each vegetable is unique with a delicate, delicious taste.  The Gold Line…fit for you and your guests.
PRODUCT DETAILS
Leaf Spinach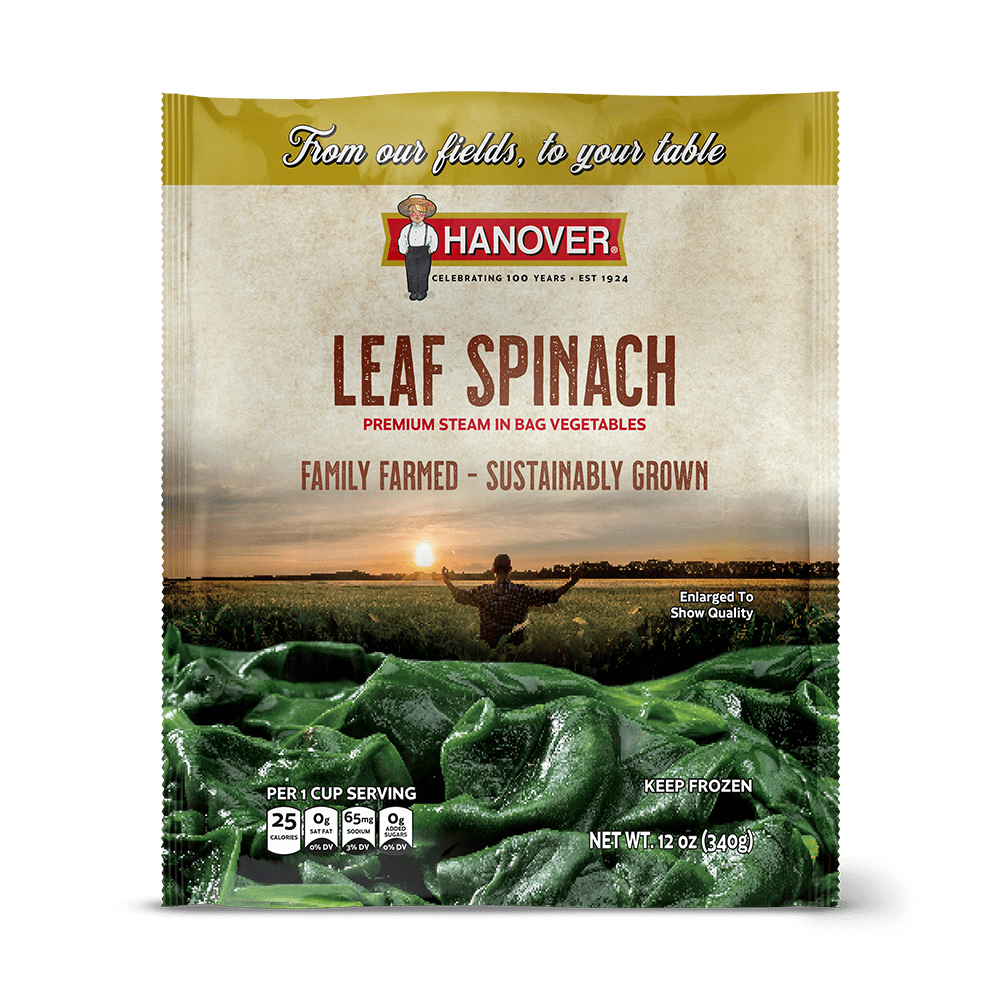 Looking for premium Leaf Spinach that's packed with nutrients and vitamins? Hanover Foods has got you covered. We pride ourselves on using sustainable farming methods and quality control to ensure that our Gold Line vegetables are of the highest quality. These are the "Guest Quality" vegetables that will add an extra touch of deliciousness to any meal.
Our Hanover Leaf Spinach is perfect for quick and easy Steam-In-Bag side dishes that can be paired with anything from pasta to meats and fish. It's also great for adding color and nutrients to main dishes like soups, baked pasta dishes, and egg casseroles. Best of all, there are no artificial colors, flavors, or preservatives added.
At Hanover Foods, we're committed to providing healthy and convenient options for your family. Our Leaf Spinach is just one example of our dedication to superior taste and quality that you can depend on for decades.
Microwave Directions: 
1. Place Hanover Leaf Spinach bag this side up in microwave. Microwave on high for 4 to 4 1/2 minutes. Bag will inflate and vent.
2. Let stand 1 minute. After that remove carefully and cut open where indicated.
3. Pour into serving dish and above all enjoy!
Stove Top Cooking Directions:
1. Empty contents of the Hanover Leaf Spinach bag into a 2-quart saucepan. Then add 1/4 cup water.
2. Cover and cook over medium heat for 4 to 6 minutes, remember to stir occasionally.
3. Let stand for  2 minute. After that season to taste.
For food safety and quality, follow cooking directions and heat to a temperature of 165°F. Promptly refrigerate unused portions.
Serving Size: 1 cup (78g)
Calories: 35
Total Fat: 0g
Saturated Fat: 0g
Trans Fat: 0g
Cholesterol: 0mg
Sodium: 5mg
Total Carb.: 4g
Dietary Fiber: 2g
Total Sugars: 0g
Incl: 0g Added Sugars
Protein: 3g
Vitamin D: 0mcg
Calcium: 110mg
Iron: 2mg
Potassium: 290mg