Premium Streamed in Bag Vegetables
Premium Blue Lake Whole Green Beans Steamed in Bag Vegetables
Premium | Steamed in Bag
Premium Blue Lake Whole Green Beans Steamed in Bag Vegetables
Our Premium Blue Lake Whole Green Beans are an excellent and convenient option for a healthy side dish. They can be heated and enjoyed on their own or used to create a unique side dish. We also offer a complete line of fresh frozen vegetables to add a healthy touch to your table with the delicious taste of the countryside that the whole family will love!
PRODUCT DETAILS
Premium Blue Lake Whole Green Beans Steamed in Bag Vegetables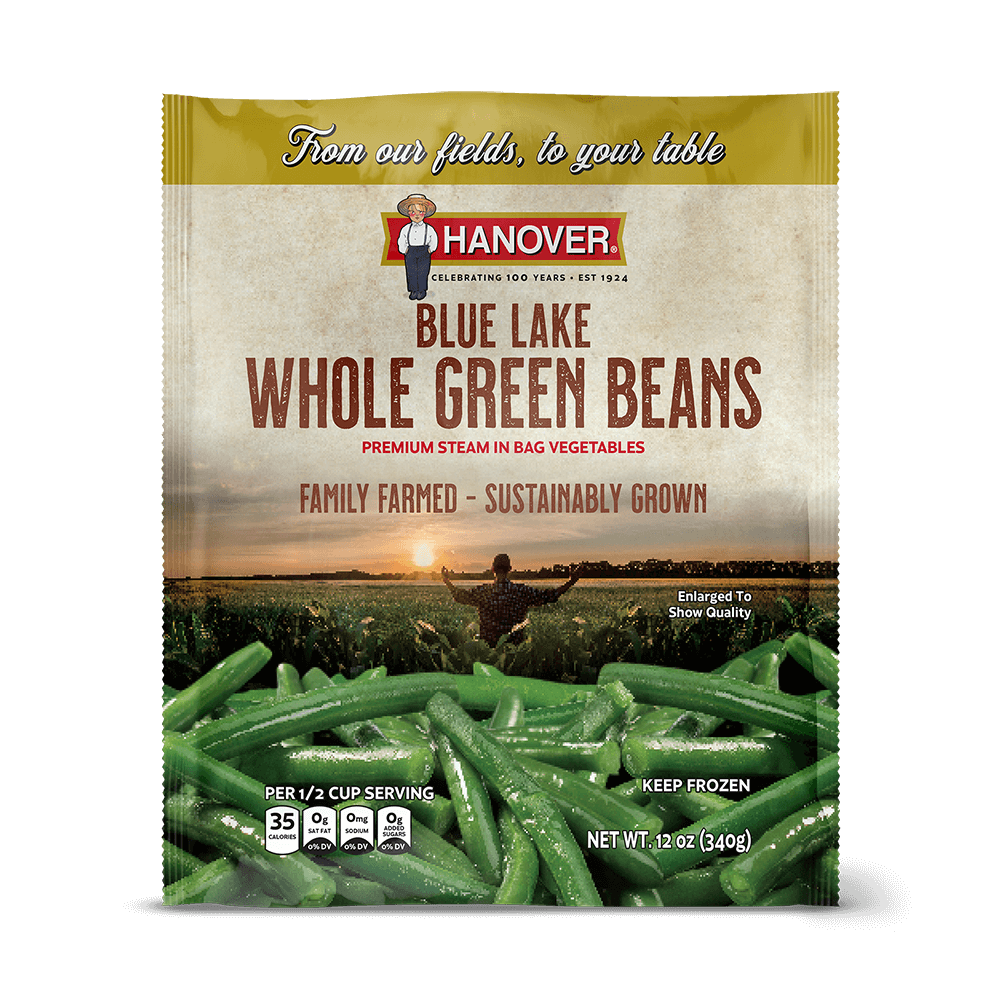 Our Premium Blue Lake Whole Green Beans are a top-quality product from Hanover Foods, ready for you to heat up, serve, and savor. Hanover Foods is situated in the heart of Pennsylvania's rich farmlands and takes pride in presenting its Country Fresh Classics. We offer premium quality, naturally delicious frozen vegetables, specialty vegetables, and vegetable blends, each carefully prepared to preserve their "fresh, from the country" taste. Our Blue Lake Whole Green Beans are nature's finest in a classic style.
These Premium Blue Lake Whole Green Beans are an excellent source of Vitamin C. Hanover Foods takes the utmost care in growing the finest Blue Lake Green Beans. These beans are well-known for their great flavor and texture. From our fields to your table, your family will relish each mouthful of our cut green beans. You can easily heat them up and serve them as a tasty side with various meals. They are also a great addition to soups and casseroles.
Microwave directions:
For full package: place contents of premium package and 1/4 cup water in 2-quart size microwaveable dish. Cover and cook 9-11 minutes at high power.  Stir once halfway through the cooking cycle. Drain excess liquid, season to taste and serve.  However, if softer texture is desired, increase cooking time slightly.  For 1/2 package:  Follow cooking directions for full package of Country Fresh Classics Cut Green Beans, except add only 2 tablespoons water and reduce cooking time 1-2 minutes. Use 1-quart size microwaveable dish. Note: Cooking time may vary depending on model of microwave oven.
Stove top cooking directions:
Place 3/4 cup water and contents of package in sauce pan. Cover and bring to a full boil.  Reduce heat and simmer 5-7 minutes or until tender. Drain; season to taste.
For food safety and quality, follow cooking directions and heat to a temperature of 160°F.  Refrigerate leftovers promptly.  Keep frozen until ready to use.
Serving Size: 3/4 cup (85g)
Calories: 35
Total Fat: 0g
Saturated Fat: 0g
Trans Fat: 0g
Cholesterol: 0mg
Sodium: 0mg
Total Carb.: 6g
Dietary Fiber: 2g
Total Sugars: 2g
Incl: 0g Added Sugars
Protein: 2g
Vitamin D: 0mcg
Calcium: 36mg
Iron: 1mg
Potassium: 160mg