Premium Streamed in Bag Vegetables
Succotash
Premium | Steam in Bag
Succotash
Looking for a nutritious side dish? Hanover Premium Succotash offers a great option for any meal. Our corn and lima beans are carefully selected when they are perfectly ripe, then individually quick frozen to maintain consistent quality, freshness, and texture. These frozen vegetables stay fresh until you're ready to serve them. Plus, they're low in fat and cholesterol, making them a healthy choice to complement any meal. Enjoy the delicious taste and health benefits of Hanover Premium Succotash as a satisfying side dish.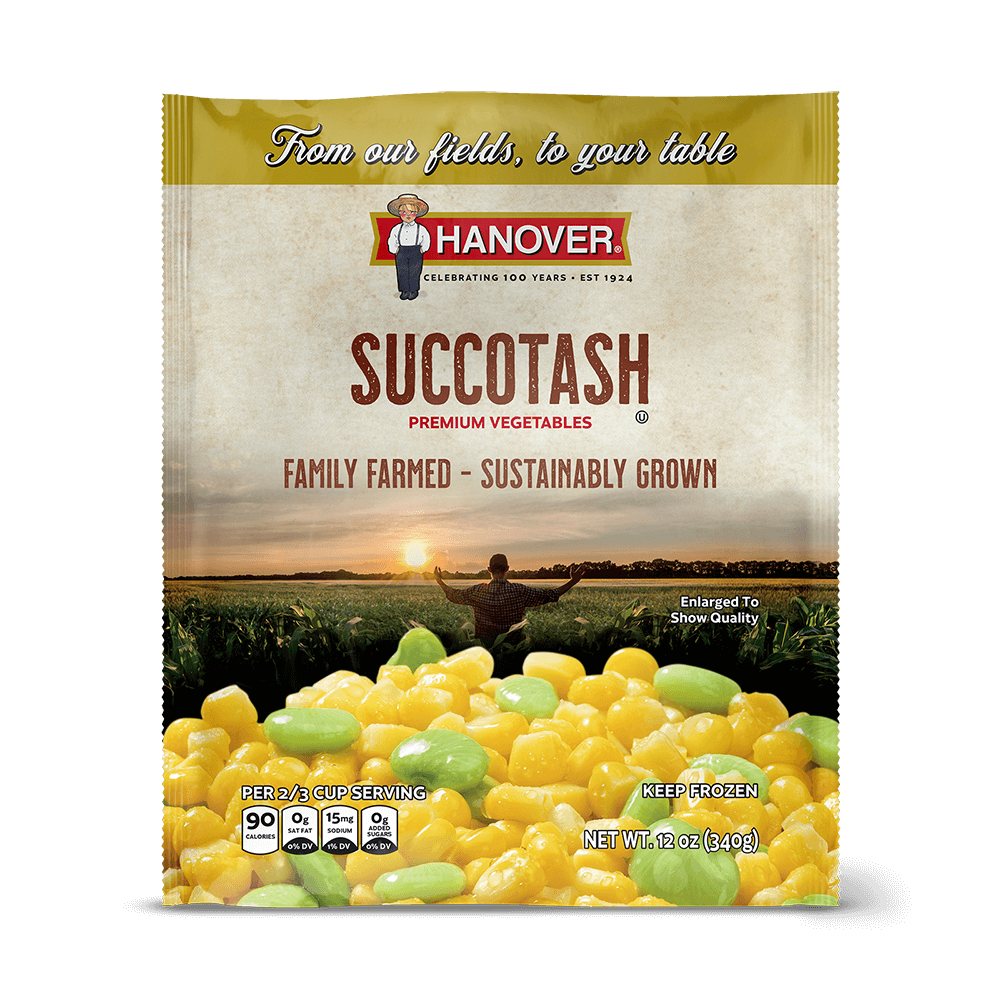 Hanover Foods' Premium Succotash is a delectable blend of our premium corn and lima beans. Our sustainable farming practices prioritize quality, and after almost a century in the business, we're proud to say that we're in control of the crops we grow. Our corn and lima beans are picked at their peak ripeness, then individually quick-frozen to maintain their consistent quality, freshness, and texture.
Premium Succotash is a healthy and delicious side dish that complements a wide range of meals. It's ready to heat up, serve, and savor! The delicate flavor of our lima beans and the sweetness of our corn make for a perfect combo. Enjoy it with pasta, meats, or fish. Make a complete meal by adding cooked protein like ham and sautéing it together. Our Premium Succotash is low in fat, sugar, and cholesterol, and is a great source of Vitamin C and fiber. We don't add any artificial colors, flavors, or preservatives. Hanover Foods is committed to providing your family with quick, convenient, and wholesome food options without sacrificing taste and quality, which we've delivered for decades.
Stove Top Cooking Directions:
1. Empty contents of the Hanover Premium Succotash bag into a 2-quart saucepan. Then add 1/2 cup water to the saucepan.
2. Cover and cook over medium heat for 7 to 12 minutes or to desired tenderness, remember to stir the succotash occasionally.
3. Let stand for 1-2 minute. After that drain and season the succotash to taste.
For food safety and quality, follow cooking directions and heat to a temperature of 165°F. Promptly refrigerate unused portions.
Cor, Lima Beans, and Salt
Serving Size: 2/3 cup (85g)
Calories: 90
Total Fat: 0.5g
Saturated Fat: 0g
Trans Fat: 0g
Cholesterol: 0mg
Sodium: 40mg
Total Carb.: 19g
Dietary Fiber: 3g
Total Sugars: 1g
Incl: 0g Added Sugars
Protein: 4g
Vitamin D: 0mcg
Calcium: 10mg
Iron: 1mg
Potassium: 250mg